Terms of payment
It is possible to pay by credit card (Visa, Visa Electron, Mastercard, American Express),
Pay Pal, bank transfer.

The transmission of payment information takes place according to the highest security standards: your credit card details will be totally inaccessible to third parties.
TRANSFER
You can pay the invoice amount by bank transfer to our account.
The shipping time is calculated from when the credit was made.
Bank account details:
Tuco Srl
IBAN: IT25W0569654780000003301X20
Please absolutely write your payment reference code in the reason for payment.
For example: RFxx xxx xxx xxx x
CREDIT CARD
You can conveniently pay with VISA and Mastercard.

Remember that you will be solely responsible for the data entered, therefore only use credit cards for which you have legitimate availability. The payment may not be authorized for the following reasons: – the credit card has expired – the credit limit has been reached: check with your bank that the maximum amount allowed by the credit card to make purchases has not been reached – some wrong data has been entered: check that you have correctly entered all the necessary fields. – you have not entered the 3D security code: in some cases a "MasterCard SecureCode" or "Verified by Visa" security code is required. If you do not have this code, contact your card manager.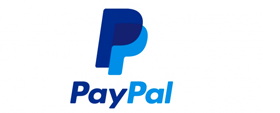 PAYPAL
If, on the other hand, you have a current account or an active credit card on your Paypal account, you can pay safely.